I teach my students to use their Writer's Eye. The Writer's Eye was taught to me when I took my CLIP class through ASU. The basics of the Writer's Eye is to teach the children to ask themselves questions while writing. Here are the basic questions:
1. Do I see a capital letter at the beginning of my sentence?
2. Do I see finger spaces between the words I wrote?
3. Did I use lowercase letters throughout my sentence, unless I needed to use a capital letter?
4. Do I see a punctuation mark at the end of my sentence?
5. Does my sentence make sense when I read it?
To remind my students to ask themselves the above mentioned questions I created this bulletin board. Actually, Mr. Phippen was the genius who came up with the idea of using embroidery hoops to form the glasses. Anyway, you need 2 hoops, a small piece of wood to join the hoops, 2 black paper plates, and spray paint to create the Writer's Eye glasses man. The kids love it!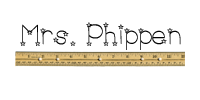 PS I have updated this Writer's Eye board and even made a
Writer's Eye Bulletin Board product
on my Teachers Pay Teachers store if you'd like. Plus, I posted a tutorial on
how to make the giant glasses
too.